I found I really did love listening to classical guitar music, which I still do to this day. Even though I didn't think I played guitar very well, I liked playing it; it was a much needed distraction to me, and when my Tatay guitar developed a big crack in the side that was facing me, I wanted to repair it. The negative reaction from my direct environment to my intention to learn how to fix a broken guitar only solidified my zeal, but it did take a number of years before the initial desire to work on guitars started to take shape.
I left my native Holland in 1979 to study with Paulino Bernabe in Madrid, only to find out that Spanish guitar makers are not very open to teaching their craft to total strangers. In the spring of 1980 I sought out Božo Podunavac, a Serbian guitar maker in San Diego, whose name had become commonplace among fans of Leo Kottke and John Fahey, for his heavily ornamented guitars with an unusually resonant sound and strong tone. Božo offered a fairly basic course in making a steel string guitar and I made my first two guitars with him. I still have these guitars and I still play one of them. Upon my return to Holland I opened up a small guitar building and repair shop in a vacant beachside restaurant space. The fact that I did not have much experience in anything related to guitar repair was exacerbated by the fact that the beach facing my shop turned out to be a nudist one. This distraction proved to be too much, and I moved to London where I spent the next three years at the London College of Furniture enrolled in their fretted instrument technology course. I built classical and flamenco guitars there, made a few electric instruments and managed to survive riding in and around London on a bicycle, which in the early 1980's was equivalent to shaking hands with a live tiger. London during this particular time was a very interesting place for me. In my spare time I worked for an antique tool dealer and I still use the British made tools which I acquired then.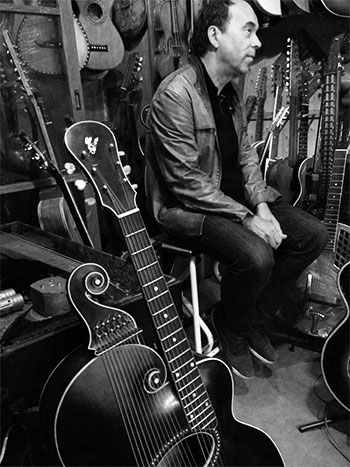 In 1986 I moved to the US after being offered a job at the Guild Guitar Company as an in-house repairman. Unlike other guitar manufacturers that offered a lifetime warranty on their instruments Guild did not have warranty stations in various places in the country, and every repair job on any Guild had to come to the Westerly plant. Repairing and restoring the unusually large and varied Guild guitar line proved to be an immeasurable source of knowledge about all things guitar. I worked at the Rhode Island factory for a few years, while making the acquaintance of renowned luthiers Mark Lacey and Kim Walker, who were, respectively, the head of R&D and manager of final assembly and both responsible for building a number of prototypes. I also was lucky enough to meet and work for a number of artists playing Guilds, among them Richie Havens, Rick Danko and Livingston Taylor, the latter being the first American artist who commissioned me to make him a guitar. I made Liv a Božo style guitar that he played for quite some time in the early '90's.
I took a break from most things guitar in the late 1980's and caught my breath behind a drafting table at an architect's office that was in the midst of changing from hand drawn plans to using AutoCAD. I was quite happy doing that until a friend sent me an ad from a guitar store called Mandolin Brothers that was looking for a repairman. I left my idyllic upstate hideaway to end up on Staten Island working for Mandolin Brothers for six years. When I arrived the in-house repair shop was in a state of a disarray, so besides being forced to teach myself about every kind of stringed instrument, I also had to learn how to manage a repair shop and polish a tarnished reputation. I had a fruitful time at Mandolin Brothers, not just because of the store's staggering inventory, but also because just about anybody that was somebody would eventually walk through the door of the rather unassuming building. But all good things must come to an end, and by 1997 I had given all I had to give to Stanley Jay's Room of Guitar Dreams.
I have known and worked with Flip Scipio for over 25 years. He is a master craftsman, top notch luthier, fearless tinkerer and…
I started Scipio Guitars that year on Staten Island as a repair shop that also built guitars. I've always experienced the separate arts of guitar making and guitar repairing to be circular. One feeds the other and I've always found my guitar designs based around previous experiences, either bad or good. Especially my guitar repair is in a constant state of flux, because we learn something new almost every day. What might seem perfect one day might look different the next time I see what appears to be the same repair. The flexibility one needs to be a successful repair person helps in designing something new that is also meaningful.
As is the norm with anybody trying their hands at a self propelled small shop in the New York area, I've moved my shop several times, trying to duck rising rents and unexpected construction. As of today my shop is in the Bushwick section of Brooklyn. I make guitars on commission and maintain and repair guitars, old and new.